Share your Wedding Hashtag
5 Key Moments To Tell Your Guests About Your Wedding Hashtag
At one point in planning your wedding you'll find yourself with a perfect hashtag guests can post photos to. Now let's have some fun announcing the hashtag and stimulate your guests to use it!
Check out the 5 key moments of letting your guests know what your wedding hashtag is:
1. Spread the news on social media
You want your guests to know as soon as possible so your hashtag won't be forgotten.
Send it with your very first Save the Date message and fire up your guest's fantasy by letting everyone know you are incorporating social media in your wedding.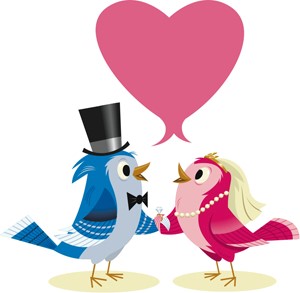 View on Pinterest
2. Put it on your Invitations
Communicate your hashtag in your wedding invitations and even consider writing down what your goal is for the hashtag. Guests are willing to work with you and create the ultimate selection of memories by using the hashtag.
3. At Pre-Wedding events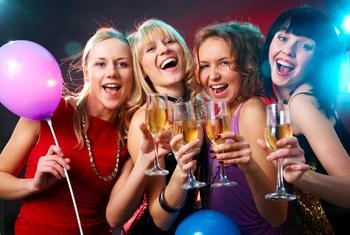 View on Pinterest
Be sure to have a wedding sign at Pre-Wedding events and allow your guests to use it.
But beware of any icky Bachelor(ette) party photos you don't want your future in-laws to see! Just a tip from our side…
4. In your own posts
When posting online regarding anything that has to do with your wedding, use the hashtag yourself. You decided on the venue? Post it! Use your hashtag and tag people. The more you do so, the more you engage your attendees to join in, creating a fun community around your wedding!
5. At your Wedding Party
Now we are at your wedding day; the time you definitely want your guests to use your hashtag. Have your friends capture your special day from all angles while making the memories personal and fun. If everybody uses your hashtag at your wedding, you'll be sure not to miss out on the hidden moments.
Use an Instagram Hashtag Sign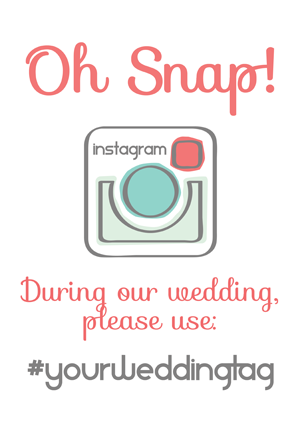 Create a sign
One of the most encouraging ways is to use an Instagram wedding sign. Place them on tables, at the registration desk, in the wardrobe, at the bar and in the garden.
Perhaps even granny gets inspired and snaps that selfie!
We're happy to create a wedding sign for you for free. All you have to do is choose your favorite template and enter your hashtag in our Wedding Sign Generator.
By putting these up as a poster or in a frame, everybody will know what hashtag to use at your wedding!
The more your guests hear about your wedding hashtag, the more likely they are to use it, so communicate it everywhere you can.